Prepare Educators to Effectively Instruct and Support Students with Diverse Needs
The pandemic negatively affected student achievement and caused mental health and behavioral issues to increase. As a result, teachers in both general education and special education classrooms are serving students with increasingly diverse needs.
66%

of all school-age students served under IDEA

spent 80% or more of their time in general education classrooms,

taught by general education teachers in fall 2020.

Only 17% of general education teachers feel very well prepared to teach children with mild to moderate learning disabilities
Vector Solutions can help equip all educators with evidence-based instructional strategies and skills to support diverse learners with Vector's engaging, online PD courses.
Why Vector Solutions?
Convenient Online PD: Our evidence-based courses and training platform are accessible 24/7 from any device and administrators can easily assign and track completions in one convenient location.
Comprehensive Course Library: Meet everyone's PD needs with 100+ courses on topics like Trauma, Behavior Management, Differentiated Instruction, ADHD, Dyslexia, Special Education Law, and more.
Customizable to Meet Your Needs: With our built-in customization tools, each course can be personalized to meet your state or individual district needs.
Request a demo today to empower educators at your school or district to meet the needs of all students!
Flexible PD Options to Empower Educators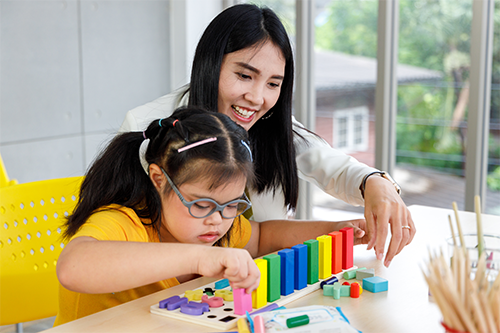 Serving Students with Diverse Needs
Prepare teachers and administrators with evidence-based instructional strategies and interventions to help students with exceptionalities succeed.​
Topics Include:
Emotional Behavior Disorder
Special Education Law and more!
Effective Classroom Instruction
Equip teachers with evidence-based strategies to improve instructional effectiveness and help all learners in diverse classrooms succeed.​
Topics Include:
Differentiated Instruction and more!
Looking for Paraeducator Training?
Vector Solutions can help your school equip paraeducators with skills to support diverse learners through our engaging, evidence-based paraeducator training. Learn More >
Our Methodology
The Vector Solutions Approach
More and more schools are looking to technology as the cornerstone of their safety, well-being, and inclusion initiatives. Make the most of your investment with a technology partner that meets your needs across the critical elements of a comprehensive prevention, safety, and compliance strategy.

Compliance

Our team of legal experts continually monitor the legislative landscape to ensure that changes or additional requirements are reflected in training content.

Fresh Content

Our courses are built by leading experts alongside renowned researchers and practitioners for an evidence-based approach.

Design

Our expert designers and developers create courses that are as engaging as they are impactful, meeting WCAG 2.0 standards to be fully accessible for all learners.

Administration

Our platform is designed to empower administrators to easily deploy and customize training, communicate with learners, track completion, access data insights, and obtain support.