Workforce Management Just Got Easier with Vector Scheduling
Staffing for a mission-critical workforce can be a daunting task. Managing schedules for multiple stations and teams, maintaining overtime compliance, ensuring union and labor policies are met, deploying strike teams ... it's a lot. Fortunately Vector Scheduling is here to help public safety leaders manage complex staffing challenges.
With Vector Scheduling, Your Agency Can Do the Following:
Manage schedules on-the-fly from your mobile device
Simplify callbacks, strike team deployments, and overtime compliance
Reduce administrative time and get data-based decision support
This innovative technology is connected to Vector Solutions' online training and operations management system. Complete the form and we will be in touch soon with more details!
Hear What Our Customers Have to Say About Vector Solutions
"The new Auctions feature was a game changer for us. Our previous vacation biddingwas manual, slow, and labor intensive. With the CrewSense Auctions (module) we simplystart a new auction and let the system do the rest. ... What was once four to five days ofsitting in a room making phone calls is almost 100 percent automated now!"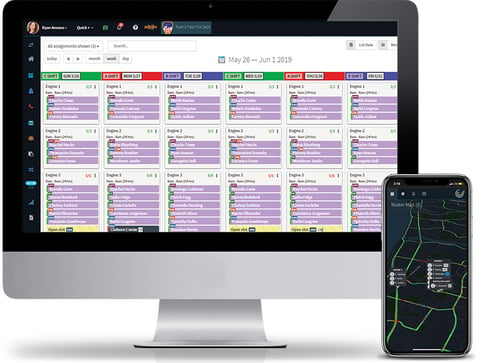 A Better Way To Schedule
Solve complex scheduling and resource management headaches quickly with our easy-to-use workforce management solution.
Shift Coverage

Easily alert employees of open shifts and watch in real time as staff respond and coverage is handled
Improve Communication

Access from any web-enabled device or mobile application, responding to needs quickly in both everyday and emergency situations
Team Satisfaction

Improved visibility into scheduling rules and processes means no more employee confusion or dissatisfaction with not getting a desired shift

Vector Scheduling includes employee scheduling, time and attendance, third-party integrations, and a mighty mobile application. Request a demo to see how this platform can help your agency operate more efficiently.
Time Off Accruals Processing
Telecommunication (Text / Phone Call)
Bidding / Auctions Module