Identify Those in Need of Support Before an Adverse Incident Takes Place with Guardian Tracking
Guardian Tracking is a performance management and early intervention solution that helps transform the culture within departments by equipping leaders with a process for consistent feedback and positive recognition. The innovative tool helps identify personnel in need of proactive care and intervention for better mental and physical wellness.
Equip your team with a tool for mental, emotional, and physical wellness
Retain and attract personnel with a process for consistent feedback and recognition
Protect your first responders through exposure tracking and proactive health screenings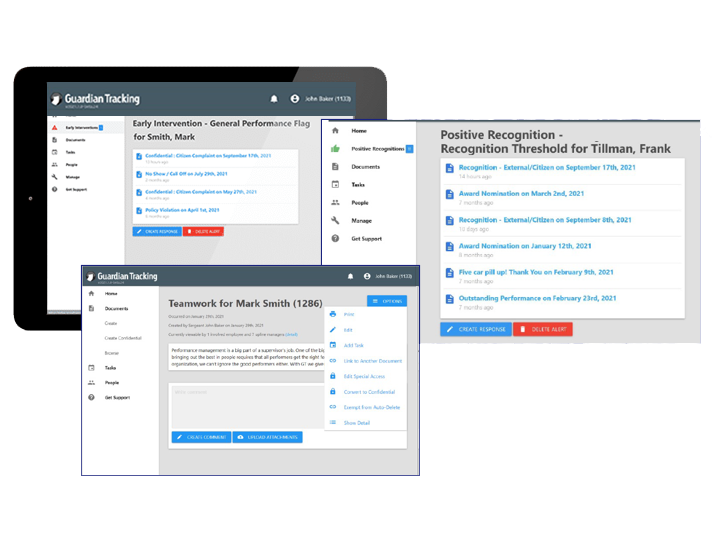 Retain Your Crew
with Vector's Guardian Tracking
Guardian Tracking's unique Early Intervention (EI) software catches trending behaviors and potential issues that may stem from triggering events. Here are the benefits for your crew.
Better Safety and Wellbeing
When early intervention flags are thrown, supervisors who know their team can make the best decisions on how to help - mental health days, rest, counseling, training, etc.
Increased Motivation and Morale
When personnel know their work has meaning and someone appreciates their efforts, they feel motivated to continue on that path.
Attract and Retain Top Talent
Recognizing positive performance is one of the most powerful tools a manager can use to create a culture that attracts and retains top talent.
"Just last week, I had one crew that responded to five deaths in 48 hours. Now we're able to see that and give them a day or two off to be with their families and get away from the stress. ... The early intervention system makes a tremendous difference, and I'm getting a lot of feedback that they absolutely love that they are getting recognized."